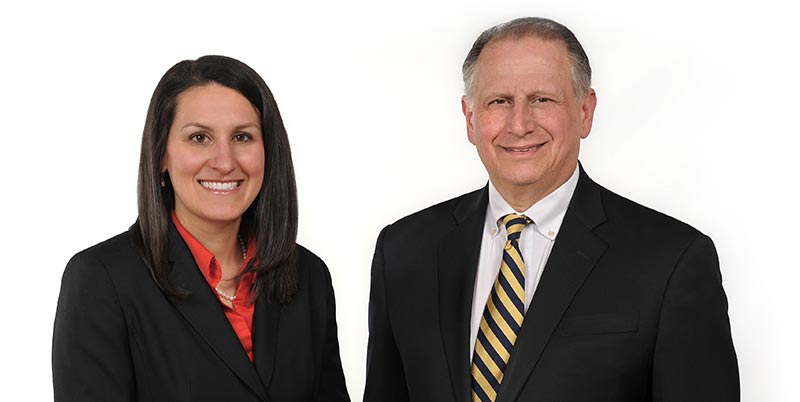 Alexis Falvello, Esq. &
Conrad A. Falvello, Esq.
Falvello Law's unique breadth of resources and experience covers thousands of auto accident, back, spinal cord and brain injury cases. For almost 100 years, across four generations, Falvello Law has specialized as a Pennsylvania personal injury law firm. For experienced Pennsylvania personal injury lawyers, Falvello Law is the law firm you will want to represent your case.
The Pennsylvania personal injury lawyers at Falvello Law represent injured people and their families all over Northeastern Pennsylvania. Falvello Law delivers the personalized, one-on-one service everyone wants, but rarely finds at a large firm. As you concentrate on medical care and rehabilitation, we handle the complex legal issues and do whatever it takes to get you the best results possible. With help from our lawyers in Hazleton, PA and Northeastern Pennsylvania, we have helped acquire millions of dollars for our clients in personal injury cases.
If you are looking for lawyers in Hazleton, PA or surrounding areas for personal injury cases, Falvello Law is the Pennsylvania personal injury law firm for you.
For more information, contact Falvello Law at 570.788.4191 or Toll Free at 1.800.724.5700 for your free legal consultation.
Falvello Law is Honored to Celebrate its 100th Year Anniversary

Your Case Is Our Fight
"I was referred to Falvello Law Firm when I was in an auto accident. Alexis Falvello took my case and I am very glad she did. She was caring and understood what I had been through. Alexis always made time for me whenever I wanted to see her and never said no. I would recommend Falvello Law Firm to everyone who might need an attorney. I could never thank Alexis, and everyone at Falvello Law for all they have done for me. Again, Thanks."
Skilled Malpractice Lawyers
"The Falvello Law Firm has experienced lawyers who have the knowledge and willingness to fight for their clients and get them what they deserve. I was involved in three car accidents over a period of time and became disabled after the first accident. I wasn't sure what to do or who to trust. I found the entire staff at Falvello Law Firm very warm and welcoming. They made me feel comfortable. The lawyers handled my case with care in a timely manner and fought for my rights which lead to a favorable outcome. They kept me informed in every aspect of my case and were very respectful. I would recommend the Falvello Law Firm to anyone that needs someone to fight for their rights and get the outcome they deserve."
Professionalism and Expertise
"Attorney Favello's professionalism and expertise produced the best results. He guided me through the whole process and kept me well informed. If I am ever again in need of legal advice I would not hesitate to call upon him."
Experienced Lawyers
"When faced with a possible medical malpractice issue for a close family member I didn't hesitate to choose Falvello Law. In fact, it was no question in my mind. Being in their office makes you feel comfortable and that you are in the hands of caring, skilled legal professionals. It seems unusual today to sit down with someone and have them actually listen to your story – not rush you through it – not make a judgement on what was done or not done. Falvello Law gives you that peace of mind and suddenly you're not alone anymore. You don't feel helpless and confused about what action to take. You quickly realize they speak to you from years of experience in law and help you determine the correct path for your case. I truly felt that they were genuinely on my side and would be with me every step of the way."
The Falvello Law Firm has clients throughout Carbon, Columbia, Luzerne, and Schuylkill counties and beyond.
Falvello Law serves the following areas in Pennsylvania, Hazleton, Bloomsburg or Berwick, Mountain Top, Tamaqua, and White Haven.
Proven Results
2.5 MILLION DOLLARS awarded to a seriously injured driver with a structured settlement of 5 MILLION DOLLARS.

2 MILLION DOLLAR policy limits settlement for a victim of medical malpractice.

12 MILLION DOLLAR judgment for brain injuries caused by a drunken truck driver.
"No one in the Hazleton Area has our experience or track record."